September 2014
There's a good chance you'll recognize the name Eugene Puryear. Campaign signs strewn across the District name Puryear as the Statehood-Green Party candidate for DC Council on one side, with David Schwartzmann's candidacy for Congress announced on the other side.
Washington's Home Rule compromise, made four decades ago, reserved four of the thirteen spots on the Council to At-Large representatives who are elected by the whole District, rather than a specific ward; by law, two of those spots are reserved for members of a minority party. This clause was designed, perhaps, to keep some Republican presence on the Council, but now it admits the possibility of a progressive champion, working from the left of the Democratic hegemony. In other words, it helps make Eugene Puryear, Councilmember a distinct possibility.
* * * * *
I was there, many months ago, when Puryear made his case to the Statehood-Green Party, compellingly marshaling the disparate concerns of the ultra-progressive partisans into a comprehensive platform. He won the party's nomination with more than 65% of the vote. When I met him at Big Bear Café in Bloomingdale, he was just as effusive as he had been in front of a larger audience; like any successful grassroots politician, he has an incredible metabolism for conversation.
Talk with Puryear for any amount of time, and his passion for social justice issues will be evident. His principles run deep, as he considers himself a third-generation civil rights activist. Family members were friendly with MLK as well as Malcolm X, and Paul Robeson was a dinner guest in the family house. "My dad trumpeted into my head that if there's a problem, you've got to do something about it," he says.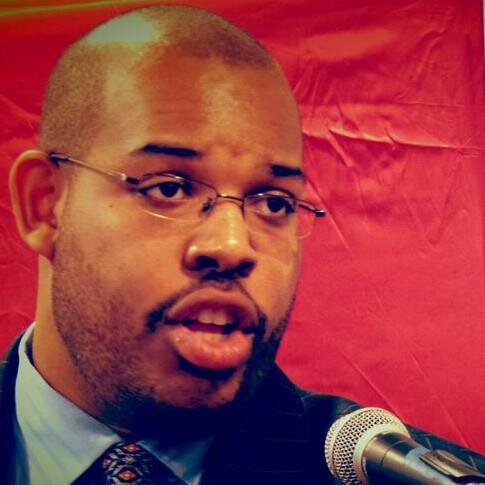 As a high schooler, he protested the Iraq War, and he cut his teeth in DC with the Coalition to Save Our Schools. "Coming here, I wanted to work on the national and international issues, but I also started to value the local, community aspect of things," he said. Puryear was hooked, and he launched into helping found the Jobs Not Jails coalition, which fought for the rights of citizens returning to the District from prison. That coalition's work bore fruit this year when the returning-citizens issue came to the fore in the spring primaries, and Puryear considers the coalition one of the most rewarding things he's campaigned for; working with returning citizens showed him "people who are really just trying to make something better for themselves and just keep hitting a wall. That's what they say doesn't happen in America."
At this point, we made an interesting segue into the topic of statehood. I hadn't realized it, but DC doesn't control its own courts. Our prisoners are, in fact, federal prisoners, which means our criminals go six or seven hundred miles away for their sentences. That makes it very hard for family or friends to visit, and support networks decay, leaving returning citizens without social resources necessary to prevent them from re-committing. It has, Puryear assures me, a huge impact on recidivism. "DC needs statehood. Unequivocally. Obviously representation in Congress is an important point, but it's not a sufficient point, because it doesn't really get to the root of the issue, which is that DC is not controlled by its own residents."
Of course, it goes beyond the courts. Washington, for example, is the only place that can't have a commuter tax (unlike New York, Philadelphia, and other cities), even though that's a tremendous loss for DC, which supports a huge number of 9-to-5 commuters. We also operate on a Congressionally-mandated structural deficit, even though the District regularly runs surpluses. "It's tremendously disenfranchising that DC doesn't have control over so many aspects of its own governance," Puryear says. "Some guy from Iowa, no disrespect to Iowa, shouldn't be able to determine the laws in DC."
What, I asked, should DC lawmakers be concentrating on today? Eugene is passionate about basic rights, from a guaranteed minimum income to sustainability. While it's those big-picture principles that seem to be winning him tons of support from young people—his contingent at the Pride Parade was notably larger than competitors, and his ground game is well-organized and a common presence at farmers' markets across the city—he also has a commanding grasp of the details involved.
Housing, for example, is one of the things Puryear feels needs the most attention. He starts off with an anecdote about a young woman he encountered on the campaign trail. "One of the craziest stories I've heard in DC – there was this young white woman, college educated, renting a room," he began. "I asked her what issues she cared about. She said she wanted to live next to a metro, but that it was too expensive, and everyone kept telling her there was no way it could happen." The situation was so bad, we concluded, that even a college-educated person's impossible dream was something as simple as living next to a metro, and they couldn't do it. From that anecdote, he moved into the nitty-gritty, talking about cost-of-living increases, underfunded housing vouchers, and guaranteed returns for landlords. At every step, he knows the outlays–$800 million for the streetcars, $150 million for a soccer stadium, and $100 million, not fully allocated, for affordable housing. He places the blame squarely on the Council and the Mayor. And he's aiming for them.
"I think on the Council we just desperately need a voice that pushes DC forward with strong, progressive policies that unabashedly favor the little guy over the big corporate interest," he declares. "It can't just be, 'this is what developers are willing to concede, so let's go with that.' Let's not just ask for crumbs and be happy with it," he continues, later citing the Council lowering the business tax as an example of kowtowing to elite interests. "People want affordable housing, but as soon as developers push back on that, [the city government] runs scared. This is one of the hottest markets in the whole world and we're not using that leverage at all to push back on corporate interest. We need someone for sure who's going to go in there and come up with serious solutions for serious problems."
Puryear, of course, would like to be that person. There's every indication that, given a spot, he would be as stalwart as his words suggest. Of course, he has to get elected first, and that's where the picture muddles. The at-large spot left open by David Catania's mayoral push is under heavy contention, with perhaps a dozen politicos of varying degrees of seriousness vying for the spot. Along with Puryear, Robert White and Elissa Silverman are contenders for the at-large spot. Both White and Silverman renounced Democratic registrations to run as independents.
When I asked what the most inspiring moment of his campaign so far has been, Puryear said, "The very first debate I was in, at Sixth & I. The crowd was super informed and engaged. It was the public opening of our campaign and it was great. I thought, I'm in it. This is happening."
It is indeed.
Quick Hits with Eugene Puryear
First piece of legislation you'd pass? Raise the minimum wage to $15/hr.
Best thing the Council did this year? Ban the Box.
Worst thing the Council did this year? Lower business taxes. Totally unnecessary.
What should readers check out in Ward 8? The Wednesday night film series with Gateway DC. Big Chair Bar & Grill is amazing.
What's an inspiring book you'd recommend? At Canaan's Edge: America in the King Years, 1965-1968.